Major Takeaways
With its low voter turnouts, Nigeria could do with more political participation.
Joining a political party is not a requirement for political participation
Looking to join a political party? It is relatively easy and Nigeria's multi party system means there are plenty to choose from.
Party member or not, get involved in your local politics!
The 2019 Nigeria general election was the first time I ever considered joining a political party. The party of interest were definitely not favourites to win. They could not even be termed dark horses. But I liked their presidential candidate, his running mate and their rhetoric. I, however, ended up not joining. With the 2023 elections around the corner, I considered them again, but the candidate they presented was not to my liking, to put it very mildly. I found myself wondering about what would have been had I joined in 2019. Would I have left the party because I did not like the candidate? Would I have been too invested at that point to leave? Maybe I would have been one of the flag-bearing faithful, chanting party slogans at rallies while the candidate I did not fancy gave speeches I did not agree with.
It got me thinking: Should I really join a political party? Should you?
Let us first take a look at voter turnouts.
What do the numbers say about voter turnout?
The statistics around voter turnout in Nigeria have historically been very poor. The 1959 Nigerian general election saw a voter turnout of 79.5% of registered voters. This was hardly a bad showing for a newly independent African country starting out its democratic life. 
Unfortunately, the 1966 Nigerian coup d'état stole that fledgling democracy from us and led to multiple years of military rule. By the time the 1979 Nigerian presidential election rolled along, people had lost their taste for democracy. That election would record a voter turnout of only 35.25%. It has not been much better since. Voter turnout fell as low as 34.75 in 2019, and the best election year since the return to civilian rule in terms of voter participation was 2003 with 69.08%.
Voter Turnout of Nigeria by Year (1979-2019)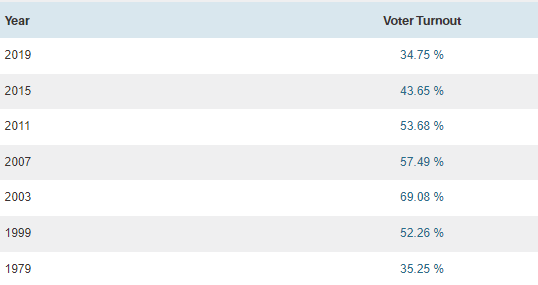 Source: International Institute for Democracy and Electoral Assistance
To get an even better picture of the extent of voter apathy in Nigeria, we could consider voter turnout in terms of the number of registered voters and the actual number of votes cast for each election compared to the country's population at that time. Since 1999, less than half the population registered for each election year, and the percentage that actually shows up to vote has been steadily dropping with each election.
Percentages of Population Registered for Election and Percentages of Actual Voters by Election Year
Sources: World Bank (Population Estimates), African Election Database (Voting Figures)
Why the overwhelming interest in the 2023 polls?
Still, you may have encountered the budding optimism surrounding the coming 2023 Nigerian general election. The election is interesting for some reasons, but one that stands out is the figures for registered voters. The Independent National Electoral Commission (INEC) reported registering 96.2 million potential voters ahead of the election. A 14.5% increase from the 84 million registered voters in 2019. Of the 96.2 million, 71.4% are young people (between 18 and 34), and 50.6% are female. These developments in voter demographic imply that more people who were not interested in politics before are now choosing to get involved.
You are probably wondering what all the fuss is about.
Why are so many people, especially the youth, suddenly interested in politics?
To begin with, the economy has definitely seen better days. Inflation is at 20.77%, a 17-year high. Then, there is insecurity. Nigeria is simultaneously experiencing terrorism, a growing farmer-herder conflict, increased banditry and kidnapping, and criminal vandalism of oil infrastructure, amongst a host of other security challenges. In 2022, the Institute for Economics and Peace (IEP) ranked Nigeria as the 21st least peaceful country (out of 163 countries). That same report claimed that the violence in Nigeria had cost the country 9% of its Gross Domestic Product (GDP). So, it makes sense that people would want to be involved in choosing the leaders who are supposed to better their lives, especially at a difficult time when that choice feels so vital.
The Party Choice – A Wealth of Options
So, maybe you are now interested and have decided to get involved in the country's politics. That is where political parties come in.
A political party, according to Encyclopedia Britannica, is "a group of persons organized to acquire and exercise political power."
In democratic systems, political power is acquired by winning an election, so political parties work towards raising mass support to win elections and subsequently control the political decision-making of the country.
The parties often have members who share identical or similar political ideas and views. In a properly functioning democracy, political parties are important agents of socialization (like families, schools, and religious institutions) responsible for educating the citizens on their political rights and duties as electorates. They are important in raising awareness of political issues and driving engagement and political participation.
It is relatively easy to join a political party in Nigeria. Most parties have a website where you can start the process. Nigeria has at least 69 political parties, with 18 registering for the 2023 elections. However, only a few of those parties appear to be viable contenders for political power. 
Being a registered party member has numerous benefits. This is especially true if you have ambitions of running for any political office yourself. The assurance of support from your party's base is vital during election campaigns. In addition, as a party member, you will be involved in selection of leaders even before elections through the party primaries. You can donate funds to, and volunteer for the campaigns of the party's candidates. These represent means of being directly involved in ensuring that the leader that emerges is one you agree with . Also, the regular party meetings you attend and other intra-party correspondence means you will always be aware of political developments in the country.
Should you join a political party?
It should be noted that a lot of the things stated above can be achieved outside of a party's structure. You can run for political office as an independent candidate. You can donate to campaigns without being a party member. Also, you can be involved in politics by participating in political polls and surveys, voting during elections, attending town hall meetings, and so on. 
We could even make an argument against joining political parties from a patriotic standpoint. As we established earlier, political parties exist to gain political power for their members. This is irrespective of whether that is the best thing for the country or not. So, it is possible for a political party's objectives and actions taken to achieve those objectives to be harmful to the development of the country. In such a situation, being part of the party and working towards its success would actually be unpatriotic, wouldn't it?
Having all of that in mind, joining a political party is partly a matter of personal preference and what exactly one hopes to achieve in politics. Whether you join a party or not, you must get involved in your country's politics.
Franklyn is a Nigerian writer who loves a good story, real or made up, and is excited by any opportunity to tell or discuss one.