Major Takeaways
Human capital flight is not always negative. It could actually be quite positive for a country to export its skilled professionals if it has a surplus. Foreign remittances are another major benefit.
Nigeria's Healthcare sector, which currently has a deficit in skilled professionals due to significant human capital flight, is experiencing a brain drain.
Both the government and the private sector have a role to play in providing a solution.
Human capital flight occurs when skilled professionals migrate abroad to look for work. The receiving country experiences a "brain gain" while the sending country experiences a "brain drain".
The mass migration of skilled labour from Nigeria is not a new occurrence. Over the past 30 years, skilled Nigerians from almost every profession have moved abroad seeking better working and living conditions. As a case study, we will look at the recent flight of medical practitioners. This is particularly worrying given the nature of the sector, and the recent and considerable media coverage.
The President of the Nigerian Medical Association (NMA), Uche Rowland, claimed in October of 2022 that at least 5,600 Nigerian medical doctors had migrated to the United Kingdom (UK) in the last eight years. The United Kingdom's General Medical Council in their 2022 Workforce Report showed a 139% increase in the number of Nigerian doctors with Primary Medical Qualifications (PMQs) operating in the UK between the years 2017 to 2021.
Number of joiners with PMQs from ten countries with the most doctors joining by year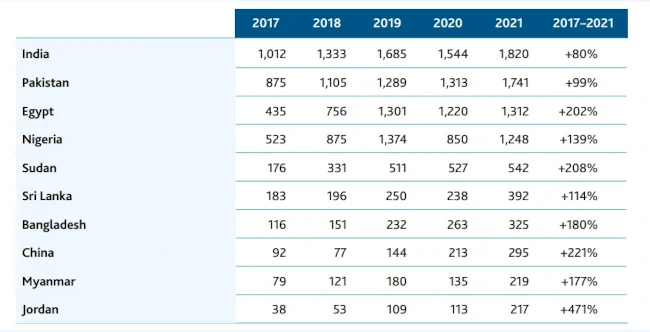 Image Source: The Workforce Report 2022
Human capital flight is not always negative. It can actually be quite positive for a country to export its skilled professionals if it has a surplus. The migrating workforce creates the space and opportunity in the job market for those who stay. Also, return migration and remittances from migrants can have positive effects on the growth of the sending country. The World Bank in a recent report predicted Nigeria's diaspora remittance inflow to be around $29 billion in the year 2022; a 66% increase from the previous year. If people flow one way but money flows the other, there exists the possibility for a net profit for Nigeria which would be a positive result of the human capital flight. This, however, depends on the immigrants having surplus income which they can send back home which is not always the case. Also, they may settle in these foreign countries and start new families which negatively affects their willingness and/or ability to send remittances.
Human capital flight becomes a problem if the sending country already has a deficit in the number of skilled professionals available. Unfortunately, this is the case in Nigeria. The Nigerian Medical Association (NMA) puts Nigeria's Doctor-Patient Ratio at up to 1 doctor to 5000 patients. This a shocking far cry from the World Health Organization (WHO)'s recommendation of 1 doctor to 600 patients. The NMA also claims that the exodus of health professionals is leading to increased infant and maternal mortality rates.
How problematic the brain drain could prove to be can be considered from a number of perspectives. Some are more immediate than others. For instance, there is the obvious lack of skilled labour. This represents an instant consequence of the brain drain as we have already established above with the abysmal Doctor-Patient Ratio, and infant and maternal mortality. More remote consequences require some speculation. On the downside, there is the degradation of local professional and educational institutions. Experts who should be in tertiary institutions training the next generation of professionals are amongst those migrating. This leaves educational institutions understaffed and puts the nation in a precarious situation.
It is not all doom and gloom, however. Human capital flight is neither inherently problematic nor advantageous but its overall net effect is dependent on a combination of several factors as we have discussed. How it affects the country depends on how it is managed. It is necessary to ensure the migration does not become excessive. While certain immigration policies may be enacted to reduce human capital flight, they are only short term solutions to a more deep-rooted problem. A more holistic approach is preferable and that requires consideration of the factors leading to the migration. These include limited employment opportunities, poor financial remuneration and undesirable working environment for the employed, and general quality of life issues in the county like insecurity, political instability and poor infrastructure. Essentially, if citizens are confident of good career opportunities and a high quality of life in Nigeria, they will have no reason to migrate. It is up to the government and private sector to address these issues to keep their skilled labour at home.
Furthermore, it is desirable to keep educational experts satisfied in their roles so the quality of fresh graduates remains high enough for the seamless replacement of the migrating workforce. If the local professional institutions can be adequately staffed by high quality graduates, then the export of large numbers of skilled professionals and the remittance that would bring in could mean that the "brain drain" could turn out to be a gain for Nigeria.
Franklyn is a Nigerian writer who loves a good story, real or made up, and is excited by any opportunity to tell or discuss one.