Long Island in New York, Miami Beach in Florida, The San Francisco Bay Area, and the Lekki Peninsula all have one thing in common. They are cities built on naturally occurring barrier islands. A barrier island is a strip of land formed along the main coastline. They are built up from sand deposits and separated from the mainland by lagoons and estuaries.
Lekki is located among the system of islands in the southeastern part of Lagos, Nigeria. The peninsula is a low-lying 70-80 km long strip with an average width of 10 km. The city is regarded as a home to the rich, housing over 400,000 citizens, with 3 local governments located within the area (Epe, Eti-Osa, and Ibeju-Lekki).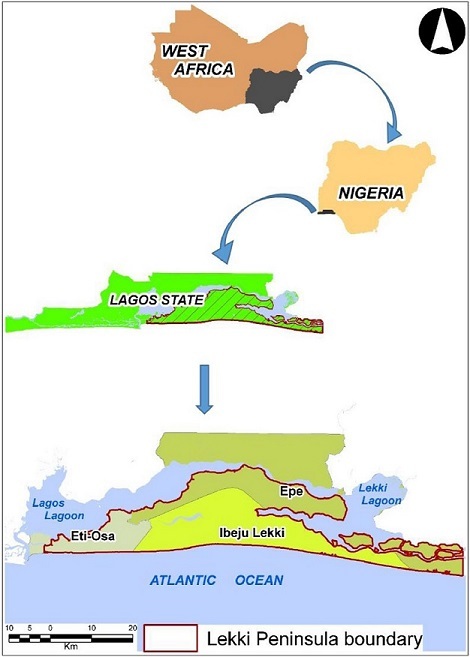 The ideal average population density around the world is 100 people per km². A megacity like Lagos holds 6,870 people per km² and undergoes rapid development without regard for the land's physical characteristics. This neglect hosts an array of problems, with many areas affected by heavy flooding during the rainy season. For a city like Lekki, these problems manifest from just flooding due to excessive rainfall (pluvial flooding), to the combined effects of coastal erosion and high tide flooding (inundation).
Little City, Big Problems
Lekki is a beautiful city.
One of its neighborhoods – Lekki Phase 1 – is popular for its expensive real estate. Developments on the peninsula have produced residential estates, farmlands, and a conservation center for preserving local wildlife. Additionally, a Free Trade Zone, airport, and seaport are still under construction (as of the time of this article). While it may be a fancy location for tourists and residents alike, it becomes a nightmare during April to October – Nigeria's rainy season.
The peninsula has a very low landscape lying between 0.5 and 5 meters above average sea level. The earth's climate is getting worse and global sea levels are predicted to rise by 2m at the end of the 21st century. This could spell doom for the residents of Lekki and Lagos.
The Lekki Sub-regional Land Use Plan was designed to act as a guideline for developing the peninsula. But, it did not take into account the island's dynamic features which led to unregulated wetland reclamation. A good example is the Ajah region of Eti-Osa. Large-scale development of the area led to the submersion of houses during rainfall.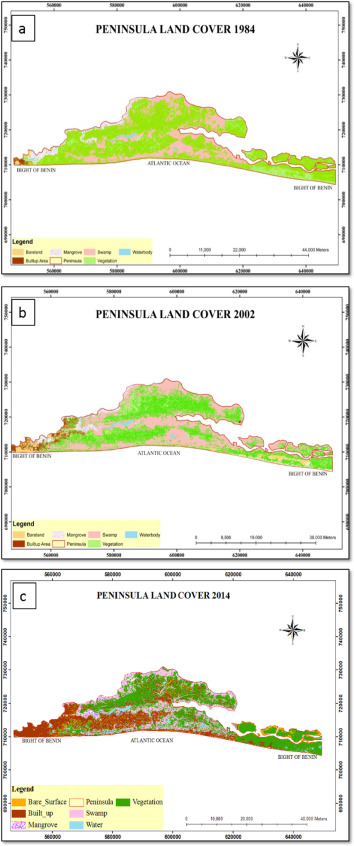 While pluvial flooding serves as a major risk to development, more challenges are met in the form of inundation and coastal erosion. Storm water drains in the city are designed for water to flow into the lagoons. Yet, rising sea levels and extreme storm surges could see ocean water flow into the land and submerge parts of the peninsula in deep floods. A study carried out by professors in Nigerian universities assessed the flooding risks posed to development in Lekki.
The results of the study showed potential levels of flooding from storm surges. These ranged from moderate surges of 3m to extreme surges of 5m water height. From a high surge of 4m, some parts of the Eti-Osa LGA would be submerged in 1-meter depths, blocking off exits from the city via the Lekki-Epe expressway and potentially impeding evacuation in the case of an emergency. An extreme 5m surge would submerge most of Eti-Osa, Ibeju-Lekki, Epe, and the Free Trade Zone in 1 to 2m of water depth. Without surge barriers in place, Lekki's narrow coastline could succumb to erosion as seen before in the flooding of Lagos Bar Beach.
An uncertain contributor to the floods is the Eko Atlantic City where development on an artificial peninsula began in 2008. The city was designed along with a storm wall to protect its coastline from storm surges but the effects on the rest of Lagos are still unknown. While most of the general public believe that the project is a major cause of flooding on other islands, the city's development officials claim it does not pose a risk to its neighbours.
So, is the Lekki peninsula really at risk of being submerged? Yes. But the likelihood of complete submersion soon is low. In the meantime, certain measures can be taken to improve the quality of life in flood-prone areas and minimize losses.
The Way Forward
Lives and billions of naira in property are lost each year in Lekki and Lagos due to flooding. Poorly planned infrastructure, rapid urbanization, and a general disregard for the city's characteristics have led to reoccurring disasters. To turn things around, proactive measures need to be taken to prevent future disasters.
These include building and maintaining flood barrier infrastructure and implementing shoreline protection methods. Restoring wetlands and flood storage basins in the area will provide safe pathways for excess flood water. The recent creation of a committee to review the Lekki Master Plan is a welcome development.
Future projects on the peninsula should consider flood elevation design of buildings for resilience. Relocation of residents to higher elevations like Epe and Ibeju-Lekki should be considered. Creating an early warning system and alternate main access roads would enable quick evacuations in the case of an emergency. The Lekki-Ikoyi link bridge is a good step in the right direction.
The current situation might seem dire; with climate change posing the biggest threat to the city. But with thoughtful planning in development, we may have the time and resources to protect ourselves against the elements, while still fostering economic growth in the state.
Princewill is an aspiring engineer. When he isn't battling differential equations, he indulges the fiction-verse and writes words of radiance.